Special thanks to my friend DJ over at
Groceries4Free
for tipping me off on this one!
Our local Food Lion has major markdowns on Huggies (Snug & Dry, Little Swimmers, and Pure & Naturals)!
I had to make a couple of trips, but it really turned out to be worth it. The hubs will be happy too since I happened to catch a great deal on steak! They also have a good deal of other baby stuff on clearance. I saw several bottles of Johnsons & Johnsons baby wash/oil, Playtex baby forks and spoons, and Huggies wipes all marked down.
They were great prices, but when you pair it with coupons - WOW!
Here's what I got: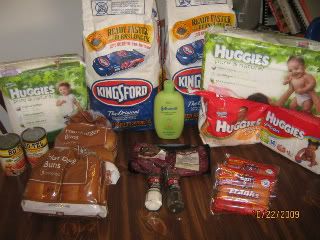 2 9lb bags Kingsford Charcoal
2 Huggies Pure & Natural (last time I bought these for $11 on sale before coupons! $6.84 today!)
1 Huggies Snug & Dry
1 J&J Cucumber Melon Baby Wash
1 Select Flat Iron Steak
2 Cans Rotel
2 McCormick Grinders
2 pkg Bar S Franks
1 FL Hamburger Buns
1 FL Hotdog Buns
1 Huggies Wipes Refill
Total Spent: $28.72
MVP & Coupon Savings: $40.24
I am not sure of the pre-clearance prices since I don't normally buy these items at Food Lion, but all of the Huggies products, and the baby wash were marked down. Needless to say, I may make one more trip to pick up some Little Swimmers for next summer!